Brief history of Dutch Dipping
The early years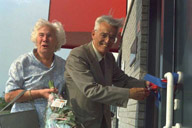 In 1948 Mr. Henri Collard, a well known engineer living in Utrecht, Holland, made his first Latex Dipping Plant.
During the period of reconstruction following the war, Mr. Collard was re-establishing his engineering business and was asked by a European latex products producer if he could design and manufacture a dipping plant for balloons.
This first plant was a relatively simple batch dipping plant which proved to be very successful. The customer was very pleased and this contact gave an insight into the industry and led to further contracts.
Start of the Company
The company was formed and continued to produce plants for the latex Industry, almost always designed to the specific requirements of each customer and increasingly incorporating original design features from the fertile mind of Mr. Collard.
It was not too long before mr. Collard became very well known in the industry, supplying plants to USA, Mexico and South America as well as the Middle East and South East Asia.
It is one of the first companies to design and manufacture continuous chain dipping plants which revolutionised the production of products such as Examination Gloves, Surgeons Gloves, Condoms and Balloons.
The company manufactured plants on the continuous chain basis for all these products and saw them installed all over the world.
Industrial Products were not ignored, along with the plants mentioned above, was also machinery for heavy duty industrial gloves and for medical items such as Baby Bottle Teats and many other items.
Mr. Collard's son François was trained in the best traditions of Dutch engineering, and with much advice from his father, he became a talented design engineer specialising in ancillary equipment. This included testing machines for condoms and gloves thereby broadening the range of equipment that could be offered.
In recent years it played a leading roll pioneering the development of dipping techniques and recently introduced on-line testing and roll-up for condom plants including on-line testing for medical glove plants.
Tragically, in September 1989, the founder Mr. Henri Collard passed away after a short illness and the company was being carried on by his son Mr. François Collard in the best traditions established over the past forty years.
Dutch Dipping
In 2005 Dutch Dipping Products b.v. was established. Because of a shift from just latex to a broad range of dipping materials, we decided to name our company to our key strength, dipping. Dutch Dipping Dutch Dipping Products